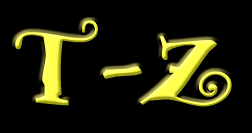 ---
A Very Tim and Cassie Christmas - Anonymous
Category: Humor Archived: 1/31/02
Rating: PG Continuity: Spudverse
Summary: A Very Merry December with your hosts: Tim and Cass.
Archivist's Comments: This companion to Ghosts of Christmas Past is one EXTREMELY fun romp through the entirety of December. Be ready to giggle. A Lot. Learn the joy of the Truffle Elf. I dare you.
---
Titles A-F | Titles G-M | Title Index | Titles N-S | Titles S-T